Week 22: Poof, It Was Gone!
by Tyrel Rose | February 22, 2023 10:04 am
Last night was not my best score in the last little while, but I left feeling very good about things. From last week's experience, I thought that I might need some loft again, but we were also bowling on lanes 65 and 66, the end pair of the center that has a peculiar characteristic. Lane 66 tends to be more "pingy" off the friction, which doesn't make much difference in terms of how to play the pair on fresh, but it often affects things differently as the night wears on.
Lanes 65 and 66 also happen to be the highest-scoring pair in my league, and it tends to favor straighter players. Covering boards isn't always as consistent in terms of reaction. In the past, I've used different balls on each lane, different attack angles, etc., depending on what the transition seemed to call for.
Once again, bowling a team with several straighter players, I expected the track to get worn down, but most of the action was happening just outside of my line, so I was optimistic that the night would go well. More importantly, I was feeling more and more comfortable in my commitment to playing a bit straighter, and I definitely had more energy than the previous week.
How'd it go?
The night had its ups and downs, complete with some disappointing spare shooting, some confusion in game three, and a disappointing last frame. But overall, it was a pretty good night.
Game one
Minus a missed 10 pin, this was a very solid game. My strategy to play one board right on the left lane worked out to the tune of a 257 game. Not much to talk about in this one.
Game two
The second game was pretty similar to the first game, complete with a missed single pin, but there were a few signs that things were changing. I had a couple of flat hits on the right lane, but they were both on mediocre shots, so I wasn't overly surprised. The real information about the right lane came on shots from teammates and bowlers on the other team. Using stronger balls than I was, particularly with more surface than my Game Breaker 4 Pearl, I saw several shots spark off the dry on lane 66 and go high. With lane 65 still looking pretty good, I had my eyes open for when I'd really need to move.
Unfortunately, I wasn't entirely sure what I'd do when the time came.
Game three
And then it was time to move. Game three started with another flat hit on each lane, on good shots, so I knew it was time for an adjustment on both lanes. The reaction I had confidence in moments ago wasn't looking so good. Now it was time to figure out if I needed to move right or left, loft it, or do something else.
My first plan was to shift my feet one board right on both lanes, as I had done the past couple of weeks. This changes the angle slightly. It worked wonders two weeks ago, but it wasn't so effective last week. It was a mix of things on this night. The move right with my feet worked well on the left lane. This is the lane that's a bit slower in response and not quite as hooky off the dry. The right lane was a different story. Moving a bit right with my feet put me that much closer to the responsive friction area and left me with a split.
The next time I was up on the right lane, I moved left to find oil and send the ball out a bit…and almost left a split. Sending the ball to the friction caused it to over-hook. So what to do? I could probably move a bit more left, but I was throwing it pretty hard and knew if I missed inside, the ball would shoot through the lane. Plus, there was no guarantee that a shot to the outside wouldn't overreact. The only two bowlers who still had a good look were the straighter players, so this information helped me decide on my next course of action. I went back to where I'd started the game and moved my eyes two boards inside in hopes of squaring up the angle completely, using the oil, and avoiding the friction.
Lined up for a big finish, the game unfortunately ended with a 7/10 split, but in my mind, I was happy with the choices I'd made.
Self-reflection
Sometimes you bowl a bit better than you score. Sometimes you bowl a bit worse than your score and get a bit lucky. This week, I made a few mistakes that cost some pins, but I also feel like my final adjustments were good. Barring some bad luck, it would have been a very solid night. So it all evens out.
The mistakes
Obviously, the mistakes were the missed single pins. Both came in the first half of the night, and if I'm being honest, I wasn't as focused as I should have been on those spares. This was a good reminder that even though I'm a pretty good spare shooter, I can't take anything for granted.
The good stuff
I took a few frames to figure out the lanes in the third game, but I don't consider any of the "wrong" adjustments to be mistakes. They're simply part of the exploring and learning process. My commitment to play a bit straighter comes with a bit of a learning curve for what I need to do later in the night. Taking information from my own shots and the bowlers around me helped me figure things out, and only a bit of a bad break cost me striking out to finish the night. I'm very okay with that, even though I was frustrated in the moment.
I'm feeling more and more confident in my game plan and my game overall. This has me really looking forward to the last two months of the season.
Key takeaways
Lane play decisions should be informed by all the bowlers on your pair, not just your own shots.
Adjustments that don't work are not mistakes. They're part of the information you are collecting.
Final scores: 257 – 225 – 200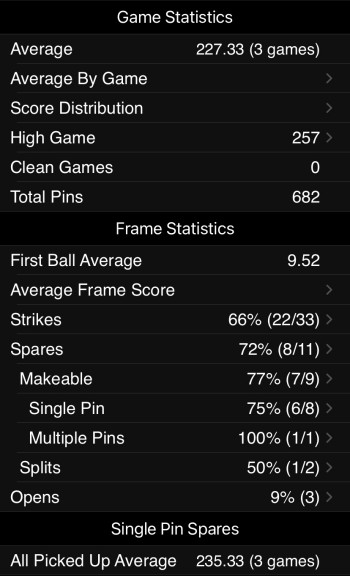 Source URL: https://www.bowlingthismonth.com/the-btm-bowling-night-blog/week-22-poof-it-was-gone/
---