Week 4: Topography Always Wins
by Tyrel Rose | October 5, 2022 8:30 am
Let's set things up by once again discussing my pair. Last night, we bowled on the hardest pair in the league last year: lanes 55 and 56. I should qualify that by saying that it was hard for some players, and easier for others. Allow me to explain.
When bowling on this pair for the first time last year, I had one of my lowest triples of the year, mostly because I couldn't buy a strike on lane 55, and I got extremely frustrated. The two lanes were extremely different, but I noticed something interesting: the two softer-speed spinners on the pair saw almost no difference between the lanes. So I altered my strategy the next time I bowled on the pair. I'd had a good look on the right lane, but decided to slow down and spin it more on 55, which worked great.
Expecting a bit of the same last night, I was surprised when my Stealth saw only a bit more hook on the right lane, and good pin carry on both. I chalked it up to the earlier, smoother motion of this ball compared to my Black Widow 2.0, which was in my hands last year. Starting the night three boards left with my feet on 56, I felt pretty good. The pins—or should I say, the lanes—had other ideas.
How'd it go?
The first game really only had two blips, but they were big blips, and both happened on the right lane. On a shot that I thought was a strike off my hand, I left a 4/9 split for an eventual open in the fourth frame. It was a sign that I already needed to move on the right lane. After another small move inside, I got back to striking until the tenth frame when a mental mistake caused another open. There were still no alarm bells ringing, but a few frames later, there would be.
Starting game two, I opened both of my first two frames on the right lane. That made three opens in a row on that lane, one being a light hit, one a pocket hit, and one shot that went through the face. I hadn't yet moved on lane 55, but I had moved twice on 56 and was staring at three opens on that lane. Clearly, I'd been fooled in practice. They were more different than I thought, and the topography issues from last year were shining through. So I changed balls on the right lane.
Meanwhile, things were starting to look iffy on the left lane with my Stealth. I was still striking, but the hits were getting weaker and weaker. Once it had clicked for me that this pair was trickier than it looked in practice, I had my eyes peeled for the funky reaction I knew that lane could deliver. After a great shot that was a very slow-to-fall pocket 7/10 that turned into a strike, I had the information I needed to change balls on this lane as well.
By game three, I used my GB4 Pearl on both lanes, but I was five boards apart with my feet and still struggling to strike on 56. Part of me wanted to go take out my Black Widow 2.0 that had reacted so well on 56 last year, but I knew that was just frustration. I kept working to find a look, and by the end of game three, I'd struck out on the right lane. I was 7-and-4 left on 56 compared to my line on 55.
It was a tale of two lanes. The stats below won't really tell the story. My overall strike percentage for the night was 67 percent, but it was 88 percent on 55, and only 47 percent on 56.
Self-reflection
Once I saw that I was bowling on 55 and 56, I was prepared to play the lanes significantly differently like I had last year. I also had two different bowling balls from last year and wanted to keep an open mind to play what I saw in front of me. This is typically the mindset that I would recommend for everyone, but it served as a good reminder that topography wins out in the long run. Every. Single. Time. The fresh back ends showed me one thing, but it didn't take long for the lanes to show their true nature.
I'm happy with the mental approach for the evening, despite getting fooled by the lanes in practice. I definitely had a bit of frustration set in while trying to find the solution to lane 56, but I kept plugging away. The tenacity paid off with a double in the tenth of game three on that lane to win my point.
In the end, I'm even pretty happy with the ball changes I made. It took me a while to really figure out 56, but I didn't spend any more time than I needed to with the Stealth in my hands and stayed out of trouble the rest of the night until I found a way to string a couple of strikes. The ball change to the GB4 Pearl on 55 was especially satisfying: changing balls off of a strike, and then striking out on that lane the rest of the night.
The scores were below average, but the performance was definitely better than last week on a trickier pair. It felt like a step in the right direction.
Final scores: 218 – 206 – 229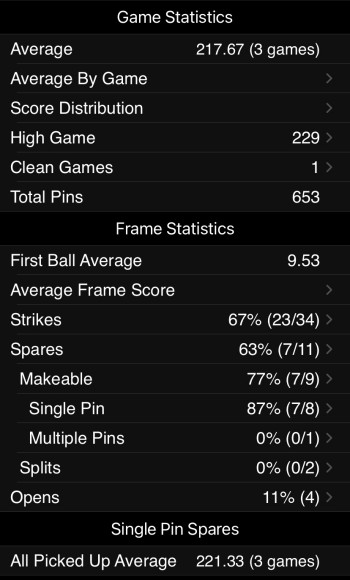 Source URL: https://www.bowlingthismonth.com/the-btm-bowling-night-blog/week-4-topography-always-wins/
---