Week 20: Well, That Just Happened!
by Tyrel Rose | February 8, 2023 9:49 am
Walking into the lanes last night, I had no idea what was in store for me. I did know that I was confident in my mindset as far as having zero expectations. This week of league bowling actually started on Sunday, when I came to the realization that it would only be my third time bowling since mid-December. With that in mind, I decided to treat it like the first night of the year, with an open mind and zero expectations. I was fully prepared to accept whatever game I brought to the lanes last night, unlike the last few weeks when I was fighting myself and my game.
Unlike the first night of league, however, I had an idea of what to expect from my game and my ball reaction. I'd been spinning it a bit more than I wanted lately, but my Game Breaker 4 Pearl had continued to perform pretty well, so my plan was to start game one with that ball. I also knew that by playing straighter through the front, I'd minimize the mistakes if I missed my target, so I set my mind to keeping my speed up and staying outside.
All this, of course, was helped by another important detail: we were bowling against the blind team. This meant there would be very little transition, and I might not have to move very much once I got lined up. We were also bowling on lanes 57 and 58, which is one of the pairs in my league that plays the same on the left and right lanes most of the time. It was the perfect storm.
How'd it go?
Spoiler alert: in terms of score, last night was the best I've bowled in at least five years. There won't be a lot of analysis as far as lane play, because there weren't a lot of adjustments to make and the strikes were coming in bunches.
Game one
The night started like any other night, and I was feeling pretty good at the end of practice. I left a swish 4 pin in the fourth frame and then continued to get some light mixers on the left lane until the tenth frame, where I struck and then left a flat 10, for a 268.
Despite striking a good amount on the left lane (four times out of six attempts), I could see the ball laboring a bit downlane and decided to double down on my game plan by moving 1-and-0 right. By this, I mean I moved one board right with my feet and kept my eyes on the same target. The goal was not to stop the ball from burning up, but to square up the angle even more so that it could continue doing what it was doing (because it was striking), and to be slightly higher in the pocket for more of a flush hit.
Game two
Starting with the first six strikes, I was feeling really good. The pace of bowling was just right, and even though my teammates were starting to see the lanes break down, my angles and ball choice kept my ball reaction stable. A mediocre shot in the seventh ended the run, and I could see the ball starting to labor on the right lane at the end of the game, with some weak strikes and then a flat 10 pin in the tenth frame. It was an easy choice to move a board right on the right lane to start the third game playing both lanes the same.
Game three
Starting with a wrap 10 pin to start the game, I knew what the math was for my first honor score in many years. There was nothing to do but keep throwing the best shots I could and pay attention in case I needed an adjustment. A few strikes later, I was starting to feel excited about what was possible. Because I wear a Fitbit while bowling, I was curious what my heart rate was: 127 bpm! Funny enough, once I looked at it in the seventh frame, things calmed down a bit for me and I relaxed more. Going into the tenth frame, I needed any kind of mark with good count. I struck on a pretty good shot, and then left another 10 pin on the second ball in the tenth to get to 279.
Self-reflection
As a coach, I understand the value of a pre-competition routine. However unlikely it is for league play due to work and family schedules, I encourage bowlers to adopt as many positive habits as possible in the 24 hours leading up to league, and certainly for tournaments on the weekends. In international competition with Team Canada, we did everything we could to ensure the best possible preparation for each squad. The mantra was, "Control what you can control." Clearly, the 24 hours leading up to my league night gave me the right mindset going in, and I benefitted from a night where we saw little transition.
In addition to the things I mentioned to start this blog, it's also worth mentioning that I spent time on Monday writing my Coach, I've Got a Question article for February, where I spent time discussing the value of adapting your game to play straighter angles and accepting when your body isn't able to do what it used to do. I was answering someone else's question, but it also applied directly to my game and some of the struggles I'd had recently. I'd unintentionally primed my mind for a further level of level of acceptance and commitment to my straighter game plan.
My shotmaking was not perfect, despite my high strike percentage and final score. It's easy to not worry about the bad shots when they are hitting the pocket and striking anyway, but that can also be related to choosing a good game plan and then not overthinking things between shots and trying to "throw it better." This is exactly what I'd been doing on previous weeks, so it did feel a bit like my first big night of the year when I'd learned from mistakes in the first few weeks.
My pre-shot routine
One thing I noticed was that the pace of play was faster, and my pre-shot routine was unintentionally faster as well. As someone who generally likes a faster pace, I realized that I had slowed things down too much as I was struggling in previous weeks. It's an easy trap to fall into, and it gave me time to overthink as well as throw me off rhythm. It's another reminder of the value of a pre-shot routine done correctly. It wasn't until reverting to a faster pace of my routine that I realized how naturally comfortable it was, and I hadn't been that comfortable in a while.
It's easy to say this in hindsight when looking at my scores for the night, but I actually talked about this to one of my teammates halfway through the first game, and it made me focus on keeping that same pace and rhythm during my routine throughout the night.
Key takeaways
Acceptance and commitment are keys to a strong mindset on the lanes.
Your pre-shot routine is more than a series of actions, and it needs to be performed at the right rhythm.
Final scores: 268 – 268 – 279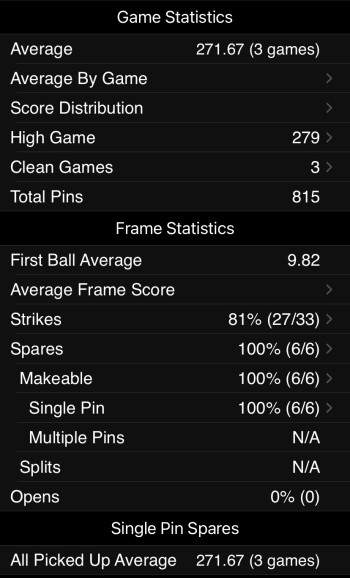 Source URL: https://www.bowlingthismonth.com/the-btm-bowling-night-blog/week-20-well-that-just-happened/
---