Article Contents
1.

What kinds of drills do you perform in practice to help maintain solid fundamentals?

1.1.

Brandi Branka

1.2.

Kristina Szczerbinski

1.3.

Rocio Restrepo

1.4.

Heather D'Errico

2.

How do you mentally prepare in practice for what you experience on the road? Do you...

2.1.

Brandi Branka

2.2.

Kristina Szczerbinski

2.3.

Rocio Restrepo

2.4.

Heather D'Errico

3.

With the patterns on the tour this year being harder than ever seen before, how would...

3.1.

Brandi Branka

3.2.

Kristina Szczerbinski

3.3.

Rocio Restrepo

3.4.

Heather D'Errico
Note: This article is only available to Bowling This Month subscribers.
If you have watched any of the PWBA telecasts so far this season (and I hope you have!), you may have noticed that the scores are a little bit different than in the past. The QubicaAMF PWBA Sonoma County Open in Rohnert Park, California sent a very clear message to the ladies on tour that the patterns were going to be unlike anything seen before on the tour. Starting off with an extremely flat pattern at this event, scores plummeted and the cut to cash and move on after qualifying was only -172 for 12 games, which represents an average score of just 185.7! The patterns in the following weeks have continued to be challenging, with lower cuts to cash than last season and a very different mix of individuals making the match play rounds.
For this month's round table discussion, I decided it would be great to catch up with three PWBA players and get their take on how they recommend preparing for the tour's unexpected and varying conditions, in terms of how they practice both physically and mentally. As a PWBA player myself, I'm also including my own answers to the questions, in hopes of adding an additional perspective that is helpful to our readers.
Editor's note: The format of the PWBA Round Table column consists of posing questions submitted by readers to several top PWBA bowlers and having them respond in "round-robin" style.
About Brandi Branka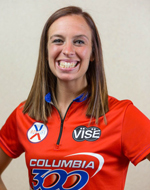 Brandi was one of the players to make the televised show at the very challenging Sonoma County Open this year. It is Brandi's third year on tour and she has proven herself a great competitor out there by making her first show and cashing in four events thus far. This was also her second season as the head coach of the Maryville University women's bowling team in St. Louis. Brandi has a national title to her name, as she won the USBC Collegiate Championships with McKendree University.
About Kristina Szczerbinski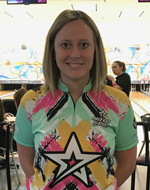 Kristina is in her third year on the PWBA Tour and she continues to make more and more casher's rounds each year. This season, she has already made two casher's round cuts, despite not making it to all of this year's events thus far. She took a week off to bowl the Opposites Attract doubles tournament in Baltimore, where she won first place with her doubles partner Chris Bardol. She is a former collegiate champion at the University Of Maryland Eastern Shore (UMES), where she also received All-American honors.
About Rocio Restrepo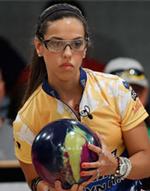 I am sure by now everyone knows who Rocio is, as she truly bowled her way to the top on tour these last few years. Last year, she was second in the PWBA points list and this year she is currently in third, having already made two TV shows and winning one title. She is a fierce competitor and plays with passion and determination every single time she steps onto the lanes.
About Heather D'Errico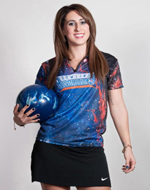 Not just a fitness guru and Bowling This Month contributor, Heather is also a PWBA player herself, with this year being her third season on the tour. Heather recently took some time off from bowling to pursue a license in massage therapy, but she has now returned to the lanes. Prior to joining the tour, Heather was an All-American collegiate player at Robert Morris University. Just like many of you, she is driven to improve her skills and get better with each event, and she is happy to be able to share those experiences with you.
What kinds of drills do you perform in practice to help maintain solid fundamentals?
Brandi Branka
In the beginning of every practice, I do no-step drills and one-step drills. Both of these drills help with my balance at the line and my release. I do about 10 of each. After those drills, I usually just throw some shots to help myself loosen up. Then, after that it all depends on what myself and the men's bowling coach at McKendree, Dennis Knepper, want to work on for that day.
Kristina Szczerbinski
There are a lot of drills out there that can be used, depending on what a bowler is trying to accomplish. Some of the drills that I work on can be ...