Article Contents
1.

Approximately how many bowling balls do you carry with you at each stop? How do you...

1.1.

Carolyn Dorin-Ballard

1.2.

Bryanna Cote

1.3.

Elise Bolton

1.4.

Heather D'Errico

2.

If you don't match up well on a pattern with ball reaction during competition (i.e....

2.1.

Carolyn Dorin-Ballard

2.2.

Bryanna Cote

2.3.

Elise Bolton

2.4.

Heather D'Errico
Note: This article is only available to Bowling This Month subscribers.
In this month's round table discussion, our focuses are bowling equipment selection and matching up to different conditions. First, I asked three PWBA players how they decide what bowling balls to take to tournaments. We then discussed what changes they typically make if they are struggling with ball reaction on a given pattern during competition and can't make a ball surface change. Check out the responses below from PWBA players Carolyn Dorin-Ballard, Bryanna Cote, Elise Bolton, and yours truly.
Editor's note: The format of the PWBA Round Table column consists of posing questions submitted by readers to several top PWBA bowlers and having them respond in "round-robin" style.
About Carolyn Dorin-Ballard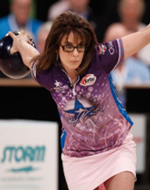 It's difficult to decide where to begin with CDB's impressive resume, which landed her in the USBC Hall of Fame in 2008. She has racked up 20 PWBA titles, three of which were majors (1998 Brunswick Women's World Open, Lake Zurich, IL; 2001 Brunswick Women's World Open, Las Vegas, NV; 2001 USBC Queens, Sunrise, FL). CDB also has been on Team USA for five years and she won one gold medal (team) and two bronze medals (doubles, trios) at the 2011 WTBA World Championships; two silver medals (team, trios) and one bronze (all-events) at the 2009 WTBA World Championships; one gold medal (team) at the 2009 PABCON Championships; and one gold medal (team) and four silvers (singles, doubles, trios and all-events) at the 2008 PABCON Women's Championships.
About Bryanna Cote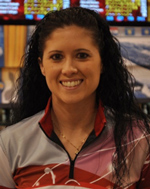 Bryanna Cote is a two-time Junior Team USA member and three-time Team USA member. She earned three gold medals (all-events, singles, doubles) and two silver medals (team, national all-events) at the 2007 Tournament of the Americas; one gold medal (doubles) and one bronze medal (team) at the 2006 American Zone Youth Championships; and three gold medals (doubles, team, team all-events), one silver medal (all-events), and two bronze medals (singles, doubles) at the 2006 Tournament of the Americas. Bryanna also tied the national record for highest series by a woman with an 879 series in September 2014!
About Elise Bolton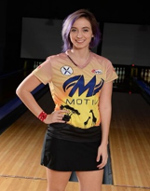 Elise Bolton was a Junior Team USA member from 2010 through 2015. During her collegiate career, she was the runner-up in the 2012 Intercollegiate Singles Championships, she won an NCAA Championship in 2013 with the Nebraska Cornhuskers, and she also earned All-American honors. In 2014, she came in 3rd place in the Intercollegiate Singles Championships. After graduation, she has competed in the PWBA Tour and regionals and earned a 7th place finish in the PBA Women's Regional Series (2015).
About Heather D'Errico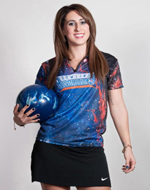 Heather is not only a writer for Bowling This Month and the founder of BowlFit, but she is also a PWBA Tour player for the 2016 season. She was the 2015 Rochester Queens runner-up, the 2010 USBC Alberta E. Crowe Star of Tomorrow recipient, the 2010 USBC Chris Stoehr Sportsmanship Award recipient, and the 2008 PBA Billy Welu Scholarship recipient. Heather bowled collegiately at Robert Morris University from 2007 to 2011 and was a 2011 Collegiate Bowler of the Year honorable mention, a 2010/2011 NAIA first-team All-American, and a 2010/2011 collegiate second-team All-American. A native of Rochester, NY, she won the 2010 Empire State Games Women's Singles gold medal and the 2010 Empire State Games Trios gold medal.
Approximately how many bowling balls do you carry with you at each stop? How do you decide which balls to take?
Carolyn Dorin-Ballard
I have about 14 bowling balls that I start with. I have always tried to be prepared before the first stop so that I hopefully won't have to drill any equipment as soon as I get to the first tournament. But, of course, you just ...