Article Contents
1.

All bowlers have weaknesses. What do you view as your biggest weakness as a bowler...

1.1.

Kelly Kulick

1.2.

Jodi Woessner

1.3.

Amanda Greene

2.

Many bowlers perceive practice as being completely unnecessary and have little insight...

2.1.

Kelly Kulick

2.2.

Jodi Woessner

2.3.

Amanda Greene

3.

Closing thoughts
Note: This article is only available to Bowling This Month subscribers.
With the recent return of a professional women's bowling tour, we at BTM decided it would be great to get to know some of the players on the PWBA Tour and pick their brains for advice that we can share with our readers. We will be inviting different members of the Tour to answer various questions (including those suggested by you, the readers!) each month, with a format very similar to our popular coaching Round Table article series from several years back.
For our very first discussion this month, we invited a seasoned veteran that you all know well by now, Kelly Kulick, along with another player who has been successful for many years, Jodi Woessner, and lastly a rookie in 2015 who took home her first PWBA title last season, Amanda Greene. I'll start by introducing our panelists, and then we'll tackle two topics this month: how they address their weaknesses and what their practice regimens look like.
Editor's note:  The format of the PWBA Round Table column consists of posing questions submitted by readers to several top PWBA bowlers and having them respond in "round-robin" style.
About Kelly Kulick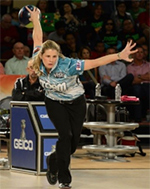 When the PWBA Tour folded 12 years ago, many women gave up the dream of bowling professionally, but Kelly decided to make history by becoming one of just a few women to have success on the PBA Tour with the men. She is one of the greatest bowlers the sport has seen in the last two decades and quickly became the idol to young female bowlers aspiring to compete. She has been a member of Team USA for 10 years and has collected 18 gold, 7 silver, and 6 bronze medals. Kelly is the 2003, 2010, and 2012 Women's Open champion, the 2007 and 2010 USBC Queens champion, and the 2010 PBA Tournament of Champions winner.
About Jodi Woessner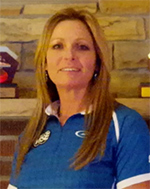 Jodi is a five-time Ohio Bowler of the Year and member of four different Halls of Fame. She has been a dominating bowler in the Midwest and Northeast US for years, racking up a wide range of bowling accomplishments, including 30 800 series and 42 300 games. She was the PWBA NE Region Baltimore Open Champion (1993), NE Region Toledo Open Champion (1994), and NE Region Van Wert Open Champion (1997). When the women's tour folded, she competed in some PBA events and is the champion of the 2008 PBA Central Region Beechmont Toyota Open and 2008 PBA Women's Series Shark Championship. She set record scores in the 2010 USBC Women's Championships Scratch and Diamond All-Events with a score of 2,330 and tied the championship record series with 816. This past season, she finished 17th on the PWBA points list.
About Amanda Greene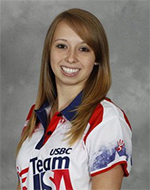 Amanda began building up her bowling resume while attending Lindenwood University. She was a first team All-American and Player of the Year runner up in 2011, 2012, and 2013. In 2013, she was named the MVP at USBC Collegiate Nationals and she took her team to a 3rd place finish at USBC Collegiate Nationals in 2012. She also won a gold medal in the team event at the 2012 World Youth Championships as a member of Junior Team USA. As she moved on in her career, she inched her way up with a 7th place finish in the 2014 USBC Queens, 3rd place finish at the 2014 PBA Women's Regional Challenge finals, and a 2nd place finish at the 2014 PBA BowlStrong Midwest/Central Challenge. In her first year on the PWBA Tour this past season, she landed her first title in Lincoln, Nebraska and was ranked in the top 15 in points, even after missing two stops.
All bowlers have weaknesses. What do you view as your biggest weakness as a bowler and what are you doing to improve it?
Kelly Kulick
My weakness is my brain. It gets in the way of what my body does naturally. I often try to manufacture a reaction, partly due to how I learned to bowl. Today's game is all about finding the piece that gives you most room for error ...