Article Contents
1.

The new PWBA Tour events consist of a 12 game qualifying block and the potential...

1.1.

Maria Jose Rodriguez

1.2.

Diandra Asbaty

1.3.

Danielle McEwan

2.

In addition to being physically grueling, competing at such an elite level can also...

2.1.

Maria Jose Rodriguez

2.2.

Diandra Asbaty

2.3.

Danielle McEwan
Note: This article is only available to Bowling This Month subscribers.
If you watched the recent telecast of the USBC Queens, you probably saw eventual champion Bernice Lim occupied by a Rubik's Cube between shots. When interviewed after her win, she was asked about it. She said it keeps her mind busy while whoever she is bowling against makes their shots. It sure seemed for her to be a good strategy for staying mentally focused and in the moment during a match with a lot at stake!
There is no doubt that the PWBA Tour events require you to be tough physically as well as mentally each week.  For this month's PWBA round table discussion, I decided to ask another contender from this year's Queens show, Danielle McEwan, along with past Queens champions Maria Jose Rodriguez and Diandra Asbaty, what their strategies are to be both physically and mentally tough.
Editor's note: The format of the PWBA Round Table column consists of posing questions submitted by readers to several top PWBA bowlers and having them respond in "round-robin" style.
About Maria Jose Rodriguez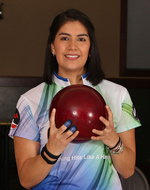 Most of you know Maria from winning the 2014 USBC Queens in Reno, Nevada. Her accomplishments extend far beyond just that, though. She has been a member of Team Colombia since 2009 and Junior Team Colombia prior to that since 2004. While representing Colombia, she has earned at least two gold medals, two silver medals, and two bronze in international competition. You may have also seen her on TV in 2008 and 2011 while winning USBC Intercollegiate Team Championships titles with the University of Maryland Eastern Shore, making them the first team to win both the NCAA and USBC Team Championships titles in the same year. Maria was NCAA Division I Player of the Year and a four-time All-American. Be sure to tune in on Tuesday, July 5 on CBS Sports Network, as Maria is the #2 seed in the PWBA Wichita Open stepladder finals!
About Diandra Asbaty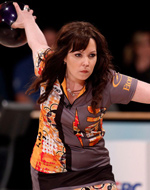 Where do we even begin with Diandra's resume? In all of her years on Junior Team USA and Team USA, she has won 30 gold medals, 11 silver medals, and seven bronze medals in international competition. She was the runner-up at the 2012 Qubica AMF World Cup, the 2006 and 2007 World Bowling Writers Female Player of the Year, the 2000, 2003, and 2007 USOC Athlete of the Year for bowling, and she was inducted into the World Bowling Writers Hall of Fame in December 2005. As a bowler for the University of Nebraska, Diandra and her team won the 1999 and 2001 XBowling Intercollegiate Team Championships, she was a two-time NCBCA First Team All-American, she was the 1999-2000 NCBCA MVP, and she was the 1998 Alberta E. Crowe Star of Tomorrow award recipient. More recently, Diandra was the champion of the 2012 USBC Queens tournament.
About Danielle McEwan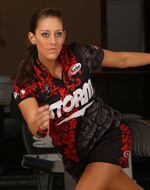 Last season, Danielle won the PWBA Tour Championship in Arlington, Texas and is certainly looking to defend that title again this season. You have already seen her on the live finals of this year's USBC Queens, and that won't be the only time you see her in a stepladder final on CBS Sports Network this season. She was also the 2016 PBA International World Bowling Tour H.H. Emir Cup champion, the 2016 World Bowling Tour Finals champion, and the 2015 South Point PBA West Region Challenger winner. She won Team USA Trials in 2012, 2013, and 2016 and in her eight years with Team USA (three as a junior and five as an adult), she has already earned 11 gold medals and two bronze. Danielle, like many other PWBA bowlers, has built her bowling resume through collegiate bowling. She was the NCAA Player of the Year in 2012 and 2013 and she led the Fairleigh Dickinson Knights to a championship in 2010. She was also FDU's Female Athlete of the Year in 2012 and 2013, the Northeast Conference Bowler of the Year for three consecutive years, the 2010 Collegiate Masters champion, and the NCAA Tournament's Most Outstanding Player in 2010.
The new PWBA Tour events consist of a 12 game qualifying block and the potential for 12+ additional games the next day. What do you do to condition your body off the lanes to be prepared for such a grueling format?
Maria Jose Rodriguez
The most important thing for me before starting was the pre-season preparation of my body. I wanted to make sure my body was in good shape and ready to attack the long 13 week PWBA Tour. I needed to be ...