Article Contents
1.

What type of targeting system do you use? On each shot, do you focus on one target...

1.1.

Rocio Restrepo

1.2.

Josie Earnest

1.3.

Missy Parkin

2.

What kind of grip accessories and aide do you use? Do you use finger inserts? Do...

2.1.

Rocio Restrepo

2.2.

Josie Earnest

2.3.

Missy Parkin

3.

Closing thoughts
Note: This article is only available to Bowling This Month subscribers.
Welcome back to the fourth installment of the PWBA Round Table! This month, we'll talk with two PWBA players who won titles and had breakthrough seasons this year, as well as a player who has been succeeding on both the PWBA and PBA Tours for many years.
This time, we'll be looking at two unrelated topics: targeting methods and the use of gripping accessories.
Editor's note: The format of the PWBA Round Table column consists of posing questions submitted by readers to several top PWBA bowlers and having them respond in "round-robin" style.
About Rocio Restrepo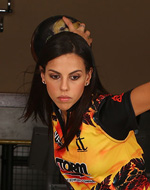 Rocio had a breakout season this year, winning her first PWBA title at the Greater Detroit Open and her second at the PWBA St. Petersburg-Clearwater Open. Prior to the PWBA Tour, Rocio has an extensive bowling resume as a five-time Colombian national champion. She was the youngest bowler to win a medal at the World Championships in 2003 at the age of 15. She has represented the Colombia national team from 2003 to 2015 and was on their junior team from 2002 to 2008. She has won two gold medals, four silver medals, and six bronze medals in international competition representing her country. Rocio also bowled collegiately at Wichita State University where she helped the team win national championship titles in 2007 and 2009.
About Josie Earnest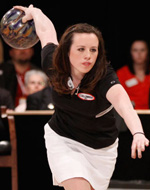 Josie has been a member of Team USA for four years and is a former member of Junior Team USA, acquiring five gold medals, one silver medal, and one bronze medal in international competition. She finished in 5th place at the 2012 USBC Queens following the legacy of accomplishments she left at Vanderbilt University. Josie was the 2007 MVP for the NCAA National Champions at Vanderbilt, which also earned her the 2008 Tennessee Sports Hall of Fame Co-Female Amateur Athlete of the Year award, along with Candace Parker. She also earned NTCA Player of the Year and First Team All-American in 2008 and 2009. This season, her bowling resume continued to grow as she won her first PWBA title at the Rochester Open.
About Missy Parkin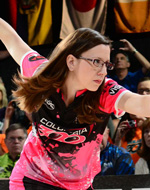 Missy is a long-time member of Team USA, with seven years on the adult team along with four years on Junior Team USA prior. She has won 20 gold medals, nine silver medals, and five bronze medals in her events representing the team. She was the first woman to ever win three PBA Regional titles. She is the 2015 PWBA West Regional champion, the 2014 PBA Women's Challenge champion, the 2012 World Bowling Tour Finals Women's champion, and the 2011 USBC Queens champion. Prior to her professional career, Missy was a stand-out collegiate player as a part of the Cal State Fullerton's Men's team.
What type of targeting system do you use? On each shot, do you focus on one target or multiple targets at different distances? Do you visualize the target line as part of your pre-shot routine? Do you use different focal points for different lane conditions (i.e. closer to the foul line on heavier oil, farther downlane on drier conditions)?
Rocio Restrepo
As a feel bowler, I don't really focus on a target on the lane. I draw lines of the shapes I want to play and what the pattern is asking me to do. There is no magic answer of what works best when it comes to looking at targets. You have to be able to adjust your angles and your eyes to what the lane is asking you to do on any given day. After ...